Child theme index:
Beolab 8, a launch with a heavenly sound
The firm Bang & Olufsen, of which Scena is the exclusive distributor in the Balearic Islands, has presented its new line of Beolab 8 loudspeakers, an ode to versatility based on interchangeable pieces, characterised by an exquisite design, which adapt to the needs of each space and vital moment.
A product that is as attractive as it is practical, which can be fitted perfectly from any position (walls, floor, ceilings or on a table), providing powerful, high-definition sound. This is the TOTAL loudspeaker.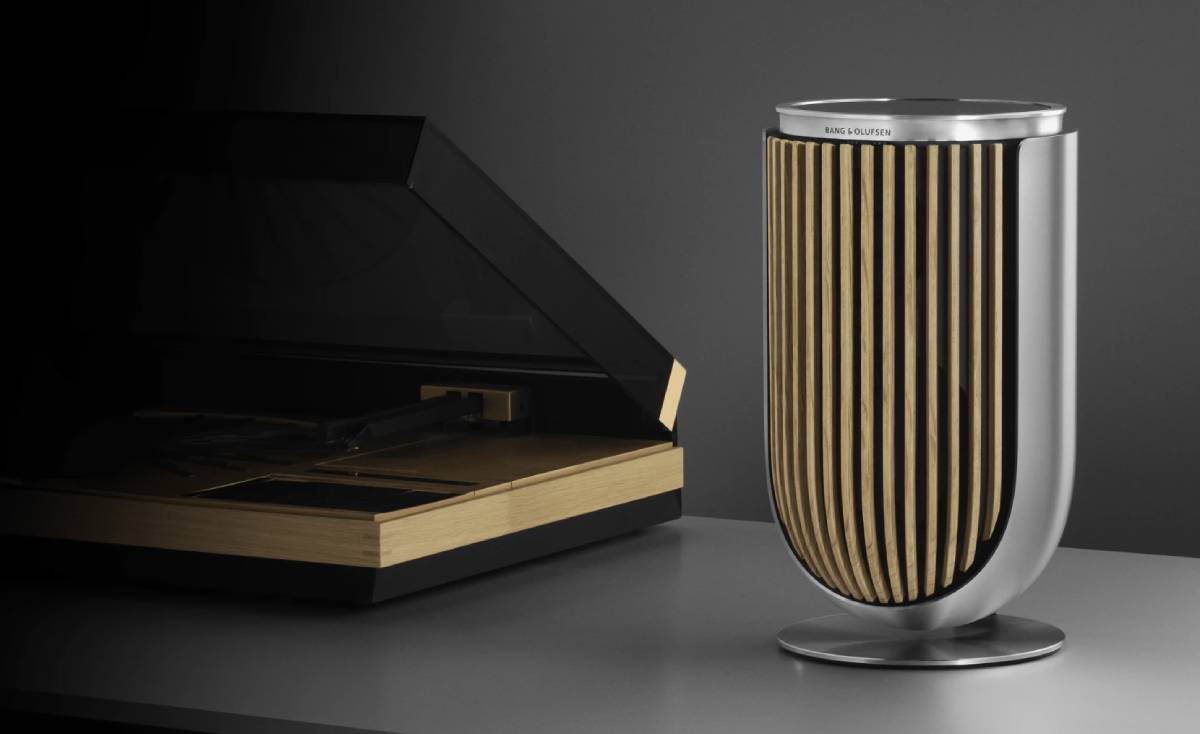 The cinematic sound experience with Beolab 8 is impressive as it integrates seamlessly into any sound setup, delivering outstanding surround sound quality.
The performance of Beolab 8 is fully understood when enjoyed in pairs. The performance of the pair makes for a spectacular soundstage, capable of filling the room acoustically.
Its three-driver sound configuration guarantees great detail and depth of sound, despite its small dimensions. Its mapping system analyses the room and adapts the sound distribution to its spatial characteristics, achieving an immersive experience.
III Bang & Olufsen Golf Tournament
Next 16th December, the facilities of Golf Son Muntaner of Arabella Golf will host the celebration of the III Tournament Bang & Olufsen organized by Scena.
In this third edition of the Christmas tournament, which will start at 09:00 hours, numerous prizes from the firm Bang & Olufsen will be awarded. The winner will win a cheque for €1,000 worth of products from the Danish brand. There will also be gifts for the winners and runners-up, both male and female, as well as recognition for the best shots of the tournament.
The golfers who participate in this third Bang & Olufsen Christmas golf tournament organised by Scena, will be eligible to win the following prizes:
Overall Handicap Winner: 1.000 Euro voucher at Bang & Olufsen Mallorca.
1st Male Winner: Voucher for 400 euros worth of Bang & Olufsen Mallorca products.
2nd Male Winner: 250 Euro voucher for Bang & Olufsen Mallorca products.
1 Female Qualifier: Voucher for 400 euros in Bang & Olufsen Mallorca products.
2nd Female Winner: Voucher for 250 euros worth of Bang & Olufsen Mallorca products.
Senior Winner: Voucher for 250 euros worth of Bang & Olufsen Mallorca products.
Close to the PIN Award: Bang & Olufsen P2 Speaker Bang & Olufsen Mallorca.
Longest Drive Award: Bang & Olufsen P2 speaker.
In the following link you can register for the tournament: REGISTRATION.
Savant, the home automation system for precision and maximum comfort, arrives at Scena
Savant is a firm that exalts precision home automation to the point of excellence. At Scena we are really pleased to be able to offer our customers the "Savant Home" solutions, starting with its universal remote control, its network manager or the management of its app, unique in the sector, which allows the user to control the functions they want from anywhere in their home.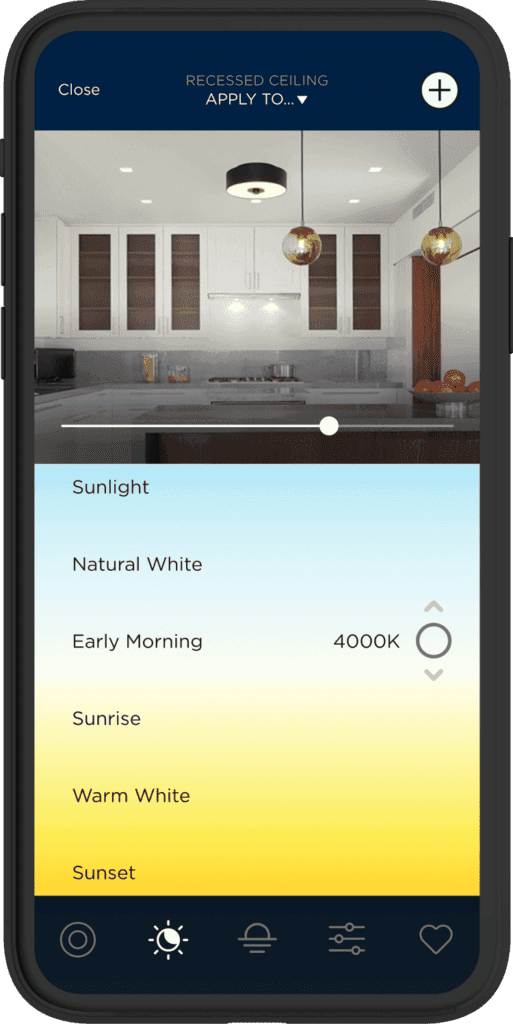 The customer only has to define the sound, image, light or temperature environments they want, in a surprisingly simple way: just add the different devices we have – streaming platforms, music, sound equipment, lighting, etc. – and, using the Savant Instant option, configure our system in just a few minutes.
Known as "Smart Home Automation", Savant's highly sophisticated and carefully designed products have been created to facilitate the integrated management of audiovisual environments characterised by unique levels of customisation, with levels of functionality and configurability never before seen in the market.
Exclusive launch event for the Ferrari Collection by Bang & Olufsen
On 21 September, the Bang & Olufsen Show Room hosted the presentation of the B&O Ferrari Collection. This is an exclusive product line developed by the Danish brand, whose official distribution in the Balearic Islands is carried out solely by Scena, and which brings together under the same design style a whole special collection of Bang & Olufsen sound products, ranging from speakers to headphones.
In addition to indulging in a sophisticated wine and champagne pairing, those attending the presentation were treated to a live demonstration of the clarity and sound quality of the devices that have emerged from the virtuous union of two giants of design, power and precision: Ferrari and Bang & Olufsen. The Beosound 2 or Beosound Explore Ferrari Edition portable speakers, or the Beoplay EX and Beoplay H95 headphones are the flagship products of this high-octane limited edition, which is as impeccably designed as the sound it delivers, reflecting in every element a shared dedication to extreme quality craftsmanship.
ONE A and Scena join forces
ONE A, a leading brand in lighting and interior design solutions, joins forces with Scena to offer our clients excellence in combining minimalist design aesthetics and intelligent technology, bringing complete visual harmony to homes. From this relationship comes a unique and personalised experience that reflects both firms' passion for innovation and quality throughout the entire process of their work.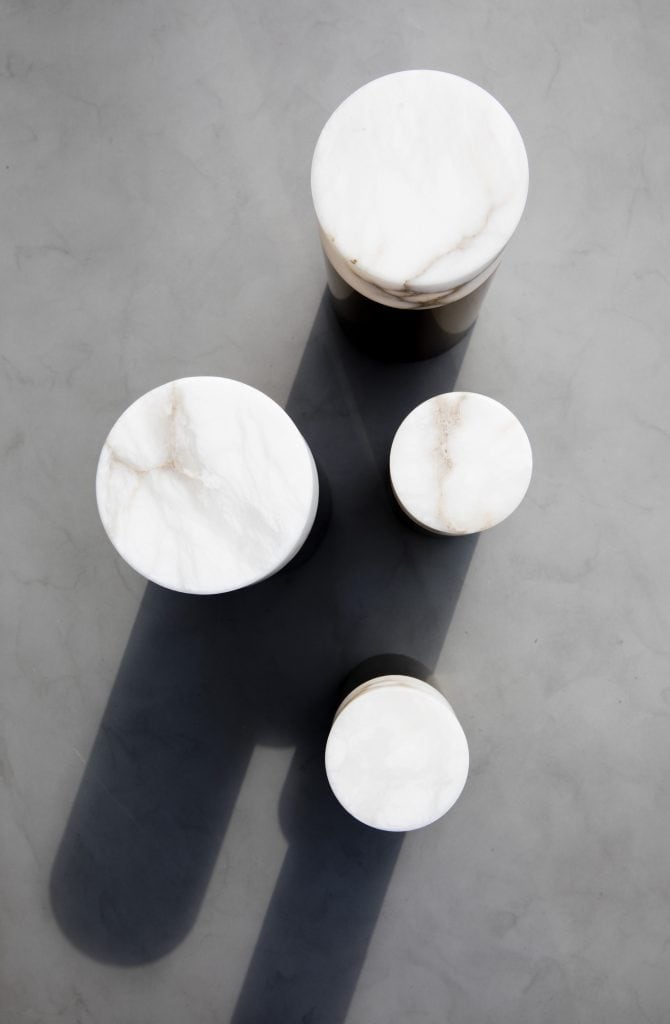 ONE A, a brand that was born in 2008, stands out for offering design solutions that incorporate both lighting and intelligent technology in a homogeneous system built with the finest materials.
Jan Bjarnhoff, a passionate lighting designer, leads the brand with an undeniable commitment to excellence and quality in its projects, from private homes to public institutions throughout Scandinavia. ONE A's headquarters, located in Hyldvej, is an epicentre of innovation and learning that houses an R&D department called "the clinic", where design is fused with craftsmanship and cutting-edge technology. In addition, this space is home to the ONE A Academy, which provides knowledge and showcases processes for customers, partners and enthusiasts.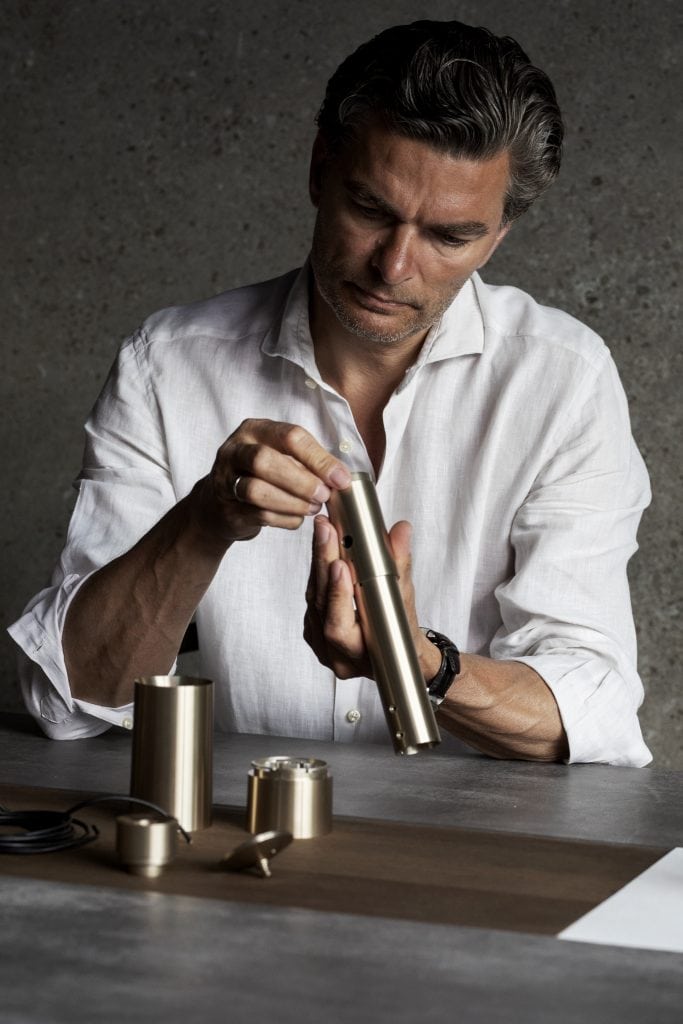 My name is Cooper and I'm here to make you happy
Indeed, that's my name, Cooper. Like the Mini but faster. Much more: I'm a greyhound, just so you know, in case I have to explain everything!
My role at Scena is crystal clear: I'm the office happiness specialist. No biting involved. On the contrary, I sniff from a distance when my colleagues are overwhelmed with tension, stress, or need a break to recharge their batteries. I detect it and look into their eyes, from here, from my couch. With my gaze, I invite them to sit by my side and pet me or share their concerns with me. Listening is my thing. And giving them cuddles, truth be told. But I'm respectful about it and let them take the initiative. I don't want to invade their space. And, to be honest, I also expect them to do the same: I only lend my couch for a while, let's be serious.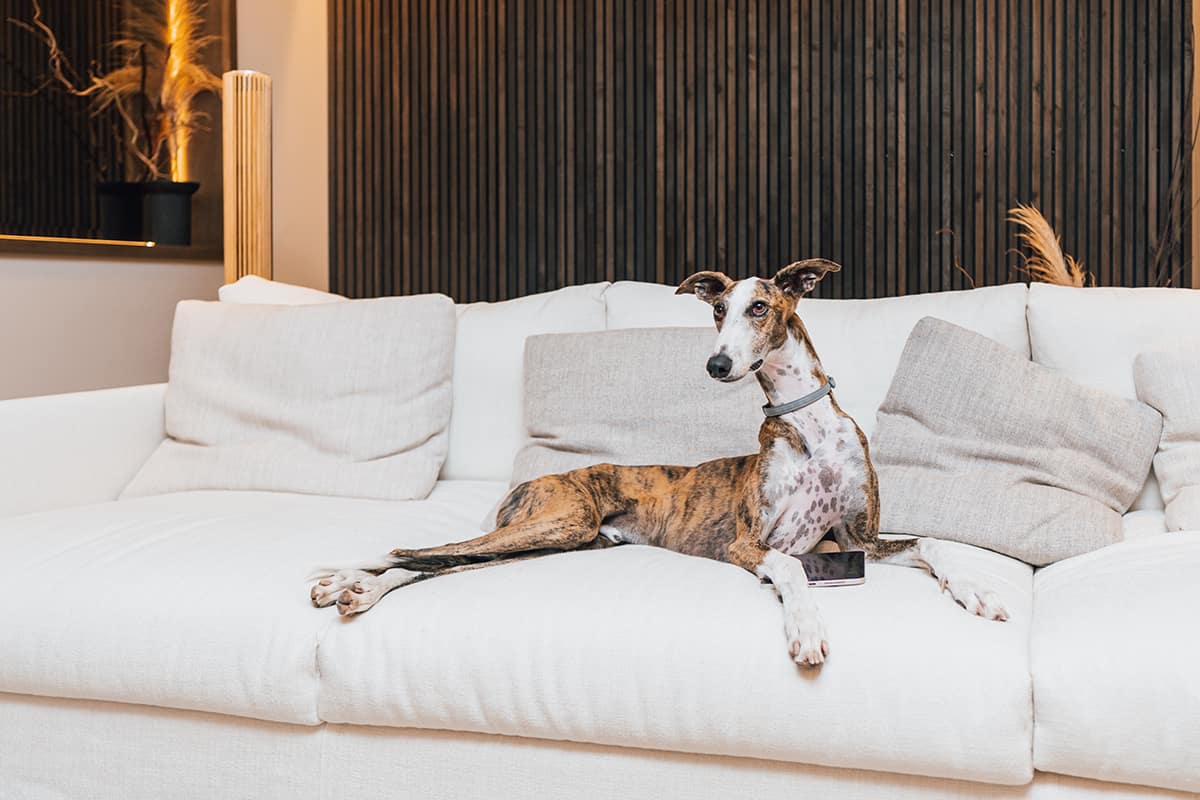 Well, now you know me. I hope that after this introduction, when you come to visit Scena, you look into my eyes. I'll know at that precise moment if you need my affection, and I'll provide it instantly. That's my job, to be happy. And for you to be happy too, don't forget that.
Wow ("A greeting" in Perrunese),
Cooper
Scena brings you the magic of sound and image in outdoor spaces
With the arrival of summer, the time we spend enjoying the Outdoor Experiences of our homes multiplies. The surroundings of each house, its dimensions, decorative elements and different nooks and crannies are the ideal habitat in which Scena is able to achieve the best acoustic and visual experience imaginable.
Having the most innovative technology allows us to provide an infinite number of solutions to create very special atmospheres, depending on the type of meeting or singular moment we wish to experience.
For example, this is the case of the exclusive Architettura Sonora cylinders which, in addition to having an extraordinary acoustic quality, have ambient lighting solutions that facilitate integration into the design and decoration of each space.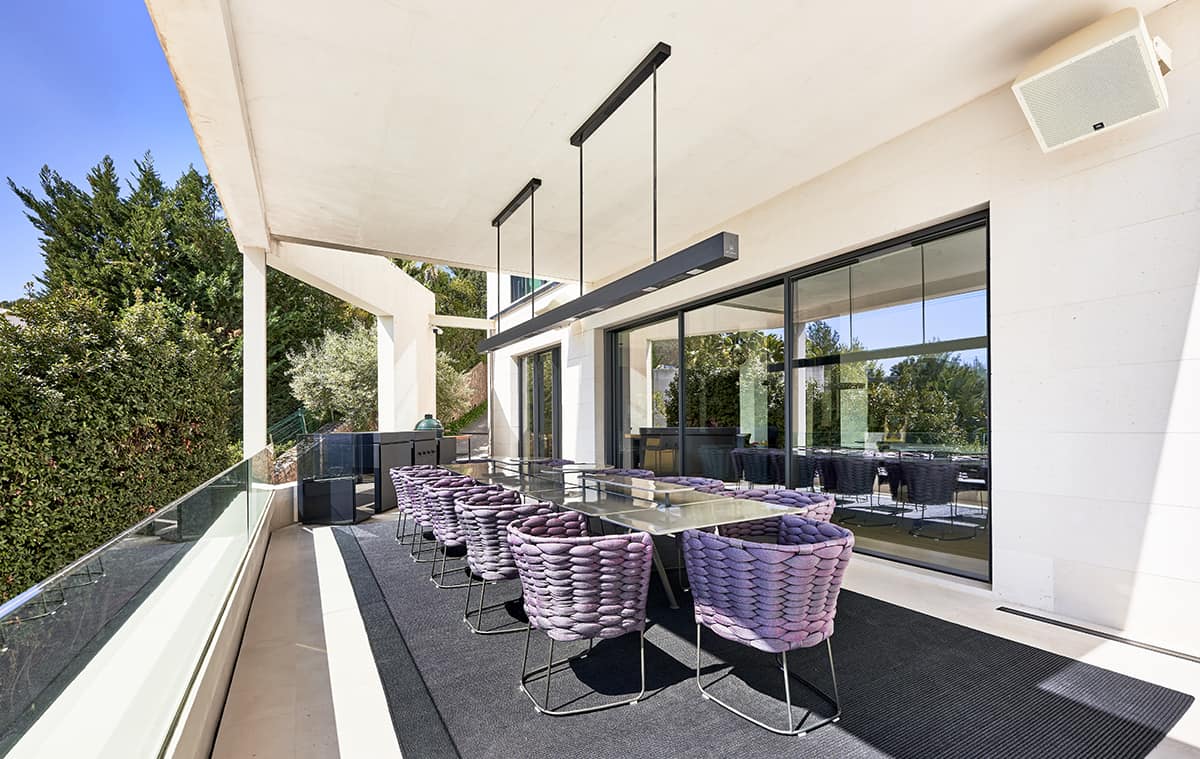 If you opt for the quality of a professional sound, such as that achieved in the entertainment industry, at Scena we rely on the technology proposed by JBL whose loudspeakers provide performance and versatility within reach of an exquisite ear.
Bang & Olufsen products, including their waterproof speakers that are easy to transport from indoor to outdoor spaces, are one of the jewels of our outdoor work.
In the projects developed by Scena, the acoustics of the environment are studied in detail, adapting the power and coverage of the loudspeakers so that they always play a leading role.
We are launching our new website! Discover Scena's passion for technology and home automation.
At Scena we are pleased to announce the launch of our new website, an update that reflects our constant evolution and adaptation to new times and trends. We have made visuals our flagship, providing our visitors with an online experience that reflects our passion for innovation and design excellence.
As a leading company in the field of home automation in Palma de Mallorca, we have dedicated ourselves to grow and evolve alongside our clients. Our experience and tradition have allowed us to design tailor-made solutions with a multidisciplinary approach, bringing together designers, engineers and technical experts to deliver exceptional quality results.
Our Experience Center and Bang & Olufsen flagship showroom store are spaces where excellence in design and the practicality of technology meet. Here, you can immerse yourself in an environment that allows you to experience first-hand the most advanced home automation solutions and discover how they can transform your home or commercial space.
At Scena we pride ourselves on making the impossible possible in the world of home automation. Whether you are looking to improve the energy efficiency of your home, create a lighting environment perfectly adapted to your needs or implement advanced security systems, we are here to help you realise your dreams and achieve your goals.
With our new website, we would like to invite you to join us in our passion for technology. Explore our solutions, discover our project portfolio and learn more about our company and the team behind it. We are committed to providing you with clear and concise information and an online experience that matches our innovative solutions.
Visit our new website and discover how we can help you transform your home or commercial space. Join the Scena community and let us take your living experience to the next level, through technology and home automation. We look forward to seeing you on our new online platform!
We look forward to seeing you on our new online platform!
The value of the multidisciplinary team involved in Scena: innovation, ethics and excellence.
Our team stands out not only for its high level of involvement, but also for demonstrating our core values of teamwork and professional ethics. We are proud to have a multidisciplinary staff of designers, interior designers, engineers and technical professionals, all united by our shared passion for design, technology and the pursuit of excellence.
We work together in our innovative Experience Center, the Scena Space, and in our flagship showroom store, the Bang & Olufsen Space. These spaces represent more than just physical locations, they are the epicentre of our collaboration and creativity. In them, we seek to create synergies and exceed expectations in every project we undertake.
Our focus on detail and constant pursuit of perfection drives us to make possible what may at first seem complex and even improbable. By combining our skills and knowledge, we make technology easy to apply and very practical on a day-to-day basis, delivering exceptional solutions to our customers.
At Scena we believe that the true value of a multidisciplinary team lies in the diversity of talents and perspectives that each member brings to the table. We complement each other, leveraging our individual strengths to drive innovation and creativity on every project.
In addition to our focus on design and technology, we also pride ourselves on our emphasis on professional ethics. We maintain high standards of integrity and transparency in all our interactions and strive to establish trusting relationships with our clients.
BEOSOUND A5, a step into the era of portable sound
Dive into an unmatched sound experience with the new BEOSOUND A5 portable speaker from Bang & Olufsen. This portable device revolutionises the audio world by breaking down acoustic and aesthetic barriers in a simple and elegant way.
With its design in Nordic Weave and Dark Oak, the BEOSOUND A5 will not only please your ears, but also your eyes. Every detail has been carefully designed to give you an exceptional listening experience in an aesthetically pleasing package.
This portable speaker delivers powerful, immersive sound thanks to its four speakers and RoomSense technology from Bang & Olufsen. Enjoy a 360-degree sound experience that fills every corner of the room with exceptional audio quality.
Furthermore, playback and volume control is easy and convenient via the B&O app, so you can customise your music experience to suit your tastes and preferences.
Connectivity is another strong point of the BEOSOUND A5. With WiFi, Airplay 2, Chromecast and Bluetooth, this speaker gives you the absolute freedom to listen to music anywhere and from any compatible device. Enjoy streaming music without interruption and without compromising on sound quality.
The BEOSOUND A5's modular and durable design ensures it will evolve with the times. With software updates and the ability to swap out parts, this speaker stays on the cutting edge of technology and adapts to your changing needs.
Experience musical freedom and control with the BEOSOUND A5. Discover a new way to enjoy your favourite music anytime, anywhere. Immerse yourself in exceptional sound and enjoy the quality and craftsmanship that only Bang & amp; Olufsen can offer. The BEOSOUND A5 takes you to the next level in the era of portable sound.